Pittoresque (1984) [W/P]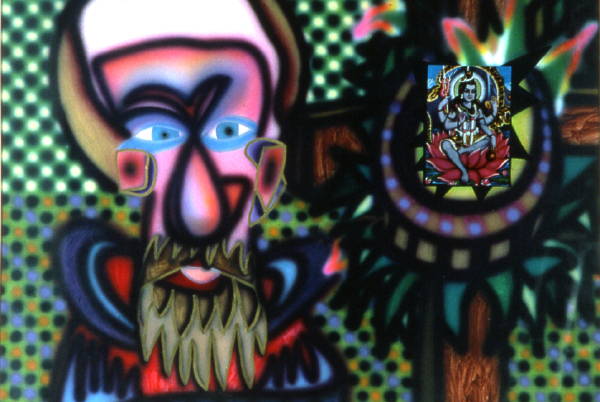 Synthetic polymer paint on paper, 77 x 107 [according to Roslyn Oxley9]
Coll.: unknown
The work shown in HA Roslyn Oxley9, 5/84 (cat.3) and then later in 1984 in a group show touring New Zealand, is provisionally identified as the example reproduced here, from a slide in Arkley's archive (untitled, but with a Roslyn Oxley9 label). See also the review of the New Zealand exhibition by Hill 1984, describing the work shown there as 'a sort of 60s bad-taste party' in 'neon-bright acrylic, gold paint and collage' – comments that seem to fit the character of this work, with its collision of Christian and Buddhist imagery, and use of fluoro pink paint.
The icon head at left reappears frequently in Arkley's work (possibly as a self-image): see Untitled [Icon #2] 1984 [W/P], Black and White Icon (1995) [W/P], Self Portrait (1996) [W/P], Untitled ['Head'] (1996?) [W/P] and The Icon Head 1997 [W/P].
Arkley later used this title for several different compositions: Pittoresque 1988 [W/P], shown at Monash in 1991, is based on the box-on-legs motif also used in Happenstance (1987); and Pittoresque (?) (1996) [W/P] depicts a grotesque face, possibly based on a Toby Jug.
Provenance
Exhibited
HA Roslyn Oxley9, 5/84, cat.3 (details as above)
'Symbols, Emblems, Signatures', Govett-Brewster Gallery, New Plymouth, N.Z., 9/84
Literature