Tennis (1983)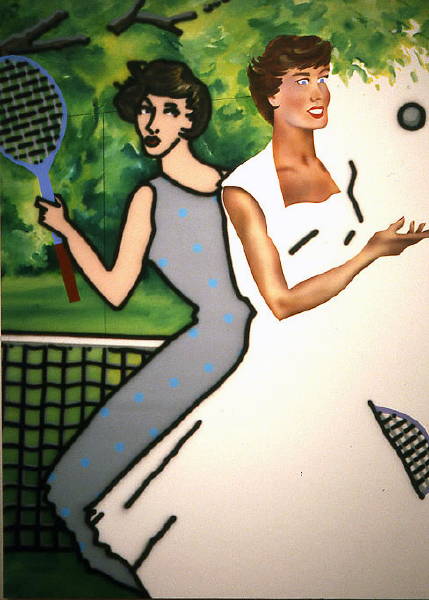 Synthetic polymer paint on canvas, 160.5 x 120.5
Private collection, Melbourne
This canvas, first shown in HA Tolarno 10/83, contains uncharacteristic gestures toward realism – in the treatment of details such as the net, the painterly background, and the conventional use of the air-brush for the head and arm of the right-hand figure. Arkley's archive includes several colour slides.
The play between graphic and illusionistic style reappears in Suburban Landscape 1987.
Provenance
earlier history unknown
listed as in the collection of E.Grossberg in 'Victoria' 1985 exh.cat.
Exhibited
HA Tolarno 10/83, cat.7
HA Roslyn Oxley9, 5/84, cat.10
Benalla AG etc., from 10/85 ('Victoria: views by contemporary artists')
Literature
'Victoria' 1985 exh.cat., p.11 (B&W photo)