Tattooed Penis (1983)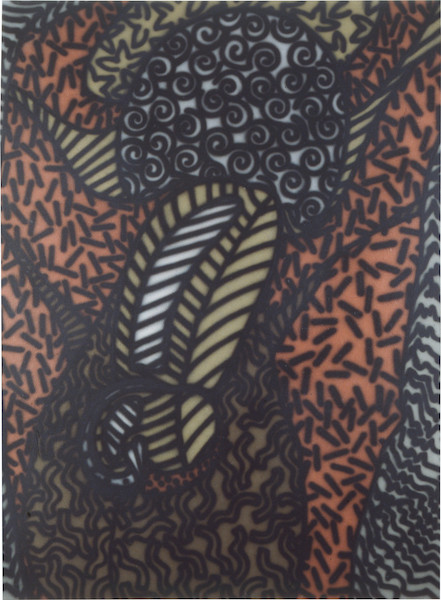 Alternate title: Penis
Synthetic polymer paint on canvas, 160 x 120
{apparently destroyed}
As noted in the general remarks on the 'Tattooed' series (1983), this canvas, exhibited in 1983-4, was apparently later destroyed (see Spray 54). When the series was shown in 1991 and 2006-7, its place was taken by the work-on-paper replica Tattooed Penis 1983 [W/P].
Psychoanalysis of this scenario might seem appropriate. Arkley explained later to the authors of Spray (54) that he simply felt the original version 'wasn't big and erect enough'; but this hardly explains the fact that both versions look equally limp!
The colour photo included here shows the canvas as reproduced on the Roslyn Oxley9 website (exhibition archives), but shown upside down. The black and white photograph in Cramer (1984) reproduces the work with the original series as exhibited at the  NGV in 1983.
According to Arkley, as quoted in Spray, Michelangelo's famous David was the main source – although the work's rather hairy appearance suggests other references, and the tattooing (noticeably absent in the work-on-paper replica) clearly adds a subversive edge.
Provenance
Exhibited
NGV 12/83 ('Vox Pop'; with 'Tattooed' series)
HA Roslyn Oxley9, 5/84, cat.11 (on its own, as Penis 1984)
Literature
Cramer 1984: 137, showing this work with the original series as exh.1983
Spray 52-54