Tattooed Head (1983)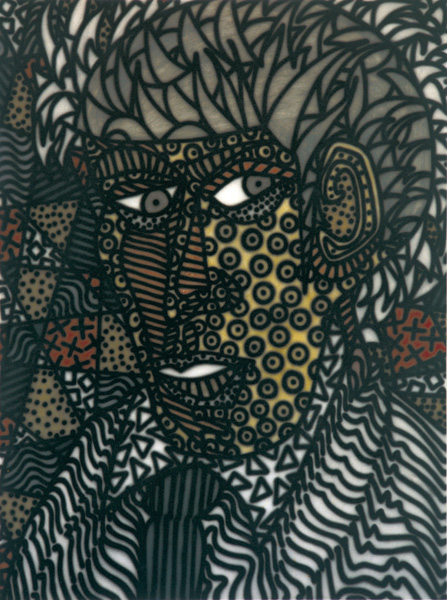 Alternate titles: Portrait, Tattooed
Synthetic polymer paint on canvas, 160 x 120
Gift of Marc & Eva Besen, 2001; TarraWarra Museum of Art collection [2002.3]
Originally exhibited, on its own, first as Portrait (HA Roslyn Oxley9 6/83), and then as Tattooed (HA Tolarno 10/83), and then generally thereafter as the first work in the 'Tattooed' series (1983).
Arkley (as quoted in Spray) identified a range of references, including Scottie Wilson's Outsider Art (a persistent interest of Arkley's since his student days), African tribal markings, and contemporary 'urban tribalism'.
For later variants, see The Tatooed Head 1985, Face (1988) [W/P] and Tattooed Head; and source material (1988 and earlier) [W/P] (now in the collection of the NGV).
Provenance
described in 1991 as in an unnamed private collection (HA Monash 1991)
gift to TarraWarra in 2001
Exhibited
HA Roslyn Oxley9 6/83, cat.6 (as Portrait)
HA Tolarno 10/83, cat.1 (as Tattooed)
NGV 12/83 ('Vox Pop': with 'Tattooed' series)
HA Monash 1991, cat.46 (with 'Tattooed' series)
TarraWarra Museum of Art 4/02 ('Genesis')
HA retrospective 2006-7 (with 'Tattooed' series; shown in all 3 venues)
HA TarraWarra 12/15-2/16 (with 'Tattooed' series)
Literature
Lindsay 1983 (Vox Pop catalogue): ill.on cover
Spray 52-3 (inc. full-page ill.)
Carnival 69-70 and Fig.2.18
NGVA Arkley audio-guide 2006 (comments by John Gregory, Ray Edgar and Ashley Crawford).
Heathcote & others 2008: 208 (ill.) [TarraWarra volume]