'Howard Arkley: Urban Paintings', Tolarno, Oct.-Nov.1983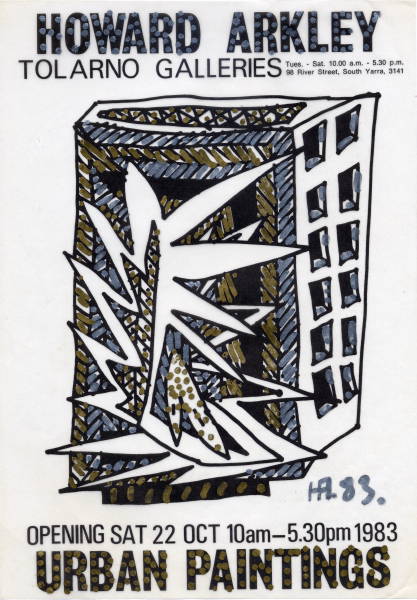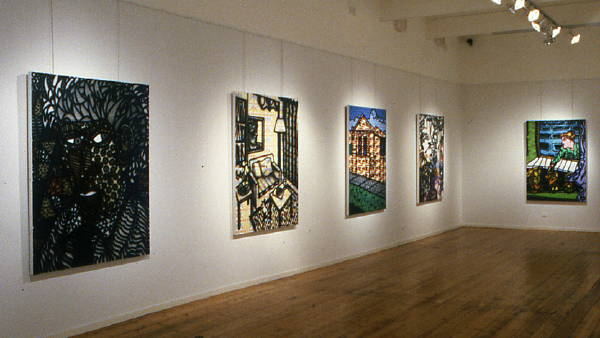 'Howard Arkley: Urban Paintings', Tolarno Galleries, 98 River Street, South Yarra, Melbourne, 22 Oct.-13 Nov.1983
Already seen by several reviewers at the time[1] as a key step forward for Arkley, this exhibition is now understood as a 'watershed' (see e.g. Spray 58ff.). Consolidating his move to figuration, he initiated various thematic concerns he would develop in subsequent years, including his first canvases depicting suburban housing. Seven of the paintings (cat. nos.1, 2, 4, 5, 6, 8 and 9) were re-united in the 2006 Arkley retrospective at the NGV.
The exhibition invitation, printed on drafting paper (25.6 x 18 cm), features an Arkley 'doodle' showing a hybrid-cactoid figure emerging from a box or building. Several copies of the invitation in Arkley's files contain extensive added detail in gold and silver felt-tipped pen (example reproduced here; for the unaltered original, see Spray 58). Arkley subsequently modified this composition for The Triffids [poster] 1985 [W/P]. The typed check-list ('prices on request') identifies cat.nos.1-11 as on canvas, 1.6 x 1.2 m; nos.12 and 14 (sic, actually 13) as on paper, 80 x 55 cm.; and no.14 as on paper, 1m x 70cm.
Arkley's file slides for this exhibition included installation shots showing nos.1-9 (see above, for nos.1-5) and individual photos of nos.1-9 and 14; all 14 works were also photographed for the Monash Visual Arts slide library (allowing accurate identification of all works, especially cat.nos.10-13). Original titles listed below; all the works date from 1983, except 10 (later re-dated 1985) and 12-13 (1982).
(photos: Installation photo, showing nos.1-5 as listed below; invitation (with artist's additions to printed copy); and installation photo showing cat.nos.10-12 [Arkley archive])
1. Tattooed = Tattooed Head (1983)
4. Billboard = Winds of War Graffiti 1983
5. Felony (1983) [not to be confused with the very similar 1987 canvas]
6. Zappo 1983 (first shown at Roslyn Oxley9, 6/83, as 'Lightning')
8. Cartographer = Cartographer (After Durer) 1983
10. Peel of the Orange = Agave Parviflora 1985 (the ID is secured via the installation photo reproduced here)
11. Zygocactus = Model (1983): first shown at Roslyn Oxley9 in June 1983 as Model, and also known subsequently by that title; the alternative title was used for this exhibition, presumably because the next work (on paper) was called Model here (again, identifications secured via installation photos as shown here)
12. Model 1982 [W/P]: ID via installation photo (reproduced here)
13. Icons = Through the Peel of the Orange 1982 [W/P]; identified via Monash Visual Arts slide (dated 1982)
---
[1] For reviews, see 1983 biblio., under Carmichael, Holloway, Millar and Rooney (5-6 Nov.)