Agave Parviflora 1985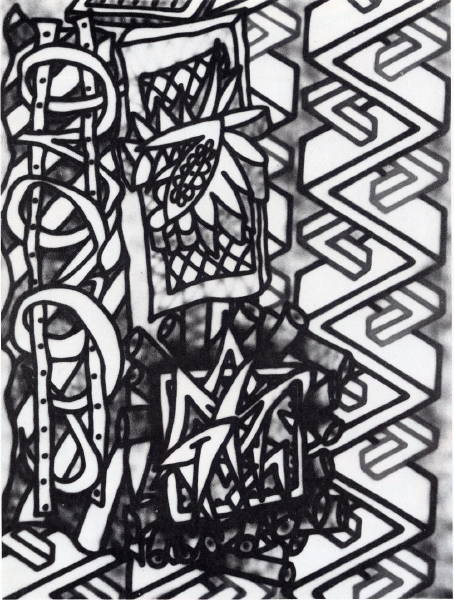 Alternate title: Peel of the Orange
Synthetic polymer paint on canvas, c.160 x 121
signed, dated and titled [on reverse, acc.to HA Monash 1991]
Private collection, Melbourne
Despite the inscribed date of 1985, installation photos (Arkley archive) indicate that this canvas was first exhibited in Arkley's solo show at Tolarno in October 1983 with the title 'Peel of the Orange'. See also Through the Peel of the Orange 1982 [W/P], also included in the same Tolarno exhibition (10/83), but shown there as 'Icons'.
In 1986, the present canvas formed part of an untitled triptych shown in Ballarat. Then, in 1987, it was shown under its present title in Arkley's solo exhibitions in both Brisbane and Adelaide, and also reproduced with this title (and a date of 1985) in Art & Australia. The work was subsequently included in the Arkley survey show at Monash (details as shown above), and reproduced in Spray.
Reflecting this complex history, the former Visual Arts slide library at Monash University included slides of this work under both 1983 (taken at the Tolarno exhibition) and 1985 (taken at the Monash survey in 1991).
Provenance
artist's collection 1987 (ref. Engberg 1987)
P/C Melb.1991 (acc. to HA Monash 1991)
Exhibited
HA Tolarno 10/83, cat.no.10 (as 'Peel of the Orange')
Hugh Williamson Prize, Ballaarat Fine Art Gallery, 1986: as part of 'Untitled Triptych' 1986 (3 canvases, each 121 x 160 cm; reproduced in exhibition catalogue)
HA Bellas, Brisbane, 6/87, cat.no.1 (as 1200 x 1600 mm; $5,500)
HA Anima Gallery, Adelaide, 10/87, cat.1
HA Monash 1991, cat.55 (details as above)
Literature
Engberg 1987: 386 (B&W ill.)
Spray 86 (ill. upside down; as 160 x 200 in size)