Untitled [Zappo study] (1982) [W/P]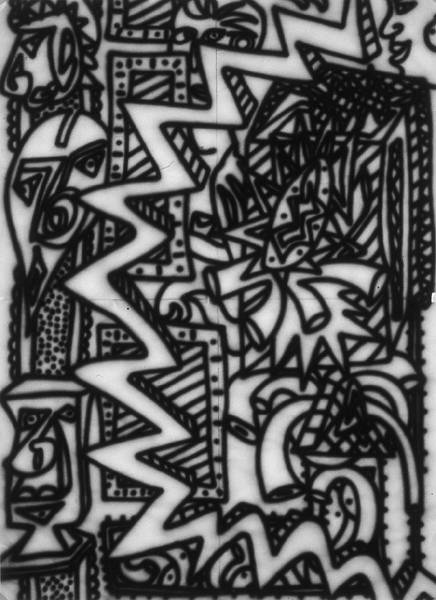 Synthetic polymer paint on 4 sheets of paper, originally c.160 x 115 overall
Private collection, Melbourne [fragment only]
This drawing, obviously closely related to the developed canvas version Zappo 1983, is almost certainly identical with the work exhibited at the George Paton Gallery in May-June 1983, as one of 3 'working drawings for recent paintings' (installation photos kindly provided by the University of Melbourne archives, July 2010).
Unfortunately, only the upper right sheet, cut-down and modified, appears to be extant. The complete work is reproduced here via Arkley's original archive slide (with process date Oct82).
Arkley's archive also contains a slide (also dated Oct82) of a rough working sketch (present whereabouts unknown), perhaps the earliest version of this composition. See also Untitled [Zappo study] (1983) [W/P], apparently representing a later stage in the development of this composition.
Provenance
artist's collection
P/C Melb. (upper right sheet only)
Exhibited
(probably) George Paton Gallery, University of Melbourne, May-June 1983 ('Comic Stripping'): see comments above