Untitled (1983) [W/P]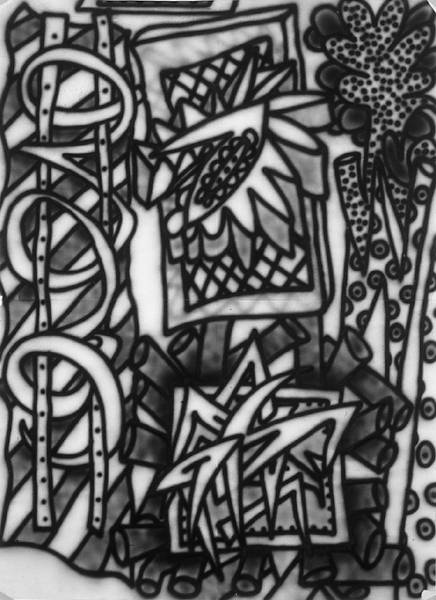 Synthetic polymer paint on 4 sheets of paper, overall size 149.5 x 112.7 [59 7/8″ x 44 3/8″]
Metropolitan Museum of Art, New York [1984.387]
This work was included in the significant exhibition of drawings by 16 Australian artists shown at the CDS gallery in New York in 1984 (curated by Memory Holloway), and was one of four works selected for the collection of the Metropolitan Museum by curator Bill Lieberman (see Age report by Cole-Adams 1984: the other works were by Peter Booth, Jan Murray and Steig Persson).
Arkley's archive slide (process date Oct82) is in the same format as slides of Untitled (1982) [W/P] and other closely comparable examples on a similar scale, mostly dating from 1982.
The correct orientation of this particular work is uncertain. It was reproduced horizontally in the 1984 CDS catalogue (with the ladder/spiral form at the bottom edge), however, the details forwarded to the Arkley Estate by the Met in 2010 show the work vertically, with the ladder to the right. The orientation shown here – vertical, but with the ladder to the left – seems to be indicated by Arkley's archive slide, and also correlates with the closely comparable canvas Agave Parviflora (1985) (as first shown, with the title 'Peel of the Orange,' in 1983: see installation photo reproduced under 'Howard Arkley: Urban Paintings', Tolarno, Oct.-Nov.1983).
NB this work was previously listed in this catalogue as Untitled [Agave study?] (1982) [W/P] (entry modified Dec.2014].
Provenance
Artist's collection
Purchased for the Metropolitan Museum of Art 1984 (Exxon Corporation Gift) [details as shown above; dated 1983]
Exhibited
CDS Gallery, 13 East 75th Street, New York, Sept-Oct.1984 ('The Australians'), as 'Untitled' drawing (1984): size given as 22" x 30" (reproduced in the catalogue, with the ladder shape at the bottom edge; copy in Arkley archive); sold for US$400 (receipt in Arkley's files, dated 19 April 1985, and indicating the correct date and size for the work)