Nude dreaming of spiders 1982 [W/P]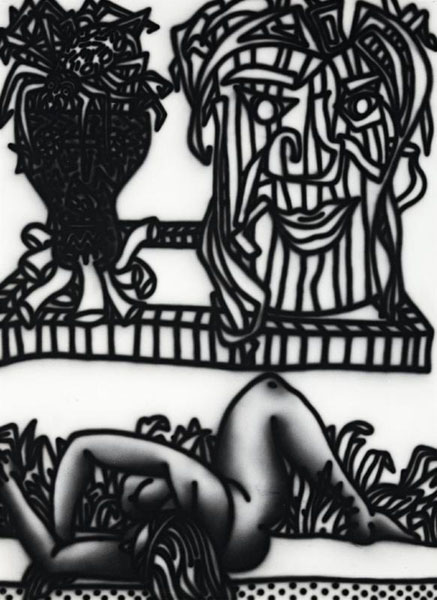 Synthetic polymer paint on paper, 150.5 x 110
Inscribed on verso: 'Title – Nude dreaming of spiders / Date – 1982 / Medium – Acrylic on paper / Size – {no size given} / Exchanged with Jenny Watson 12.1.83 / Howard Arkley'
Coll.: unknown
This work was exhibited as one of three 'working drawings for recent paintings', with an added collaged face on the head at the upper left, in the 1983 'Comic Stripping' exhibition at the George Paton Gallery (installation photos kindly provided by the University of Melbourne archive, July 2010), and also reproduced in that form in Sue Cramer's review of the 'Comic' Stripping' show in Art Network, Spring 1983.
It was then reproduced, as shown here, as 'Nude Dreaming of a Spider', in Elwyn Lynn's significant 20-year survey of Australian art in the Summer 1983 issue of Art & Australia.
The work was recorded most recently at auction in Melbourne in August 2012, together with additional provenance details as noted here.
The hallucinatory subject prefigures Arkley's cacti and succulents of 1984ff.
Provenance
Tolarno Galleries (acc.to Lynn 1983)
Coll.Jenny Watson, Queensland, 1982-  (refer inscription on verso)
Corporate collection, Melbourne (acc.to Deutscher & Hackett 8/12)
auctioned by Deutscher & Hackett, Melbourne, 29 August 2012, lot 92: details, ill.as shown here; est.$22-28,000; sold for $21,000 plus buyer's premium
Exhibited
George Paton Gallery, May-June 1983 ('Comic Stripping') (with added collaged head, as reproduced by Cramer 1983: 17)
Literature
Cramer 1983: 17 (with added collaged element as noted above; size give as 120 x 160 cm)
Lynn 1983: 200 (as 'Nude Dreaming of a Spider', 150 x 110; ill.)