Cartographer (after Durer) 1983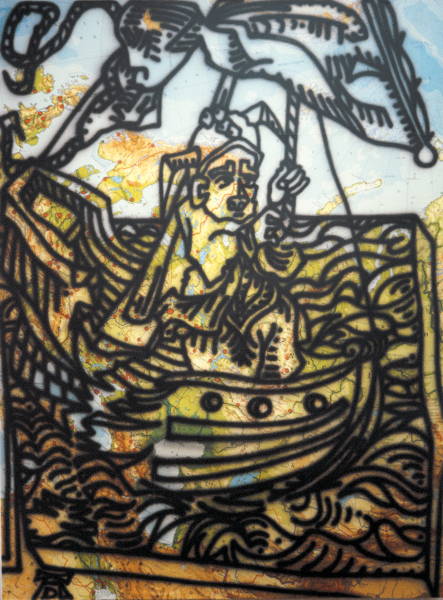 Synthetic polymer paint on paper on canvas, 160 x 120
signed, dated and titled [on reverse: 'Cartographer (After Durer) / Howard Arkley '83']
Private collection, Perth
First shown in the Arkley show at Roslyn Oxley9, June 1983, and regularly thereafter.
The imagery is derived from a woodcut attributed to Albrecht Dürer, showing a foolhardy sailor, first published in Sebastian Brant's Ship of Fools (1494): see Gates 1989 and the discussion in Carnival 92-94. According to Spray, citing Arkley himself, the dream-like imagery of Werner Herzog's 1982 film Fitzcarraldo was also a reference for this work.
The underlying map shows Northern Europe (with north to the right). An entry in Arkley's Visual Diaries no.D 14 (dated Jan.1983) refers to a 'Map from Frank', suggesting that this map may have been sourced from his step-father, Frank Lewis. However, Elizabeth Gower (interview July 2010) suggests that this map was part of the large-format series that she and Arkley had used previously for their collaborative Map Book 1978 [3/M].
See also After Dürer (1987).
Provenance
P/C Melb. (according to Spray research card, c.1996)
recorded in its current collection in planning notes for NGVA exh. 2006
Exhibited
HA Roslyn Oxley9, 6/83, cat.4 (as Cartographer)
HA Tolarno 10/83, cat.8 (Cartographer)
ANZART at Edinburgh, 8/84 and George Paton Gallery, University of Melbourne, 2/85 ('Meaning & Excellence')
HA Anima Gallery, Adelaide, 10/87, cat.6
Monash Uni. Gallery 10/89 ('re:Creation/Re-creation')
HA Monash 1991, cat.42
HA NGVA 2006-7 (shown in all 3 venues)
Literature
Gates 1989: 30-31 (ill.)
Duncan 1991: 7 (ill.)
Spray 66-67 (inc.ill.)
Carnival 92-94 and Fig.3.8