Untitled [Heads and Arrows] (1981?)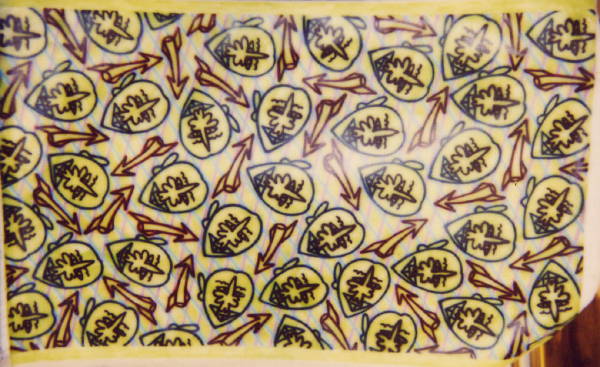 Synthetic polymer paint on canvas, c.120 x 200?
Coll.: unknown
First documented in several Polaroid photos in Arkley's archive, dating from c.1982, including one using the work as a backdrop for some of Arkley's blow-up toys! (photo reproduced under general remarks for 1982). Later (1996) with Deutscher Fine Art (photo taken at the time reproduced here, from Arkley's files).
The painting deploys a distinctive pattern of stylised heads and arrows; the date, size and orientation suggested here are all based on the apparent similarity of this work to Untitled [Ornamentik variant] (1981?).
Provenance
sold by Deutscher Fine Art Dec.1996 (Arkley files, 1996: letter and photo, as reproduced here)