Tram no.384 1980 [3/M]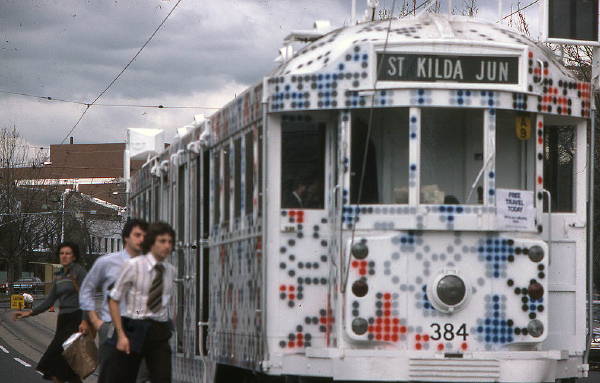 Synthetic polymer paint on tram
signed and dated ['Arkley.80']
Private collection, Victoria
Arkley's tram was the 12th in a series of 16 commissioned by the Victorian Government; other contributors included Peter Corrigan, Elizabeth Gower, Mirka Mora and John Nixon. For Arkley's artist's statement, see the 1983 'Transporting Trams' catalogue (quoted in Duncan 1991 and Carnival 64).
Conceptually, the work relates particularly to the 'Functional Objects' series of works on paper from 1980-81 (see now discussion in Carnival). The patterning, developed from dot matrix and embroidery sources, is closely related to a number of Arkley's other works at the time, especially Print Out (1980), Printout (1981) and other variants on both canvas and paper. There are also several 'Tram drawings' from 1980 (see catalogue entries), at least some of which probably served as working drawings for the decoration of the tram itself. The project is also related to Arkley's large-scale use of serial dot patterning in Wall Painting (Muzak Mural) (1981) [3/M].
Arkley's archive contains numerous slides and photographs taken in 1980, including several showing him posing with the tram (see e.g. Triaca 1980 and Carnival Fig.2.1). It was sold in 1986, along with others in the series, to help finance the relocation of the Victorian College of the Arts from the NGV to its new campus (letter to the artist from the Victorian Ministry of Transport, 25 Nov.1986: Arkley archive). According to a later press report (Herbert 2000), Arkley's tram was seriously damaged in an accident at some stage prior to being decommissioned, and is now in a private collection in rural Victoria.
[Photo shows Arkley's tram in action, 1980; archive slide]
Provenance
commissioned as part of a series by the Victorian Government
decommissioned and sold at auction 1986
Exhibited
'Transporting Art: Melbourne's Painted Trams', Victorian Ministry for the Arts Gallery, Melbourne, 12/9-14/10/83 (showing sketches, plans and photographs of the series)
Literature
Triaca 1980 (press report)
'Transporting Art' 1983 (exh.cat./poster; including detail of the signature and date on Arkley's tram)
Duncan 1991 (HA Monash exh.cat.), 13 (quoting Arkley's 1983 statement) and 21-22 (ill.)
Spray 40-41 (including photos)
Herbert 2000 (noting the work's later history)
Carnival 59 and 64, Figs. 2.1 and 2.8