The Proton Neutron 1980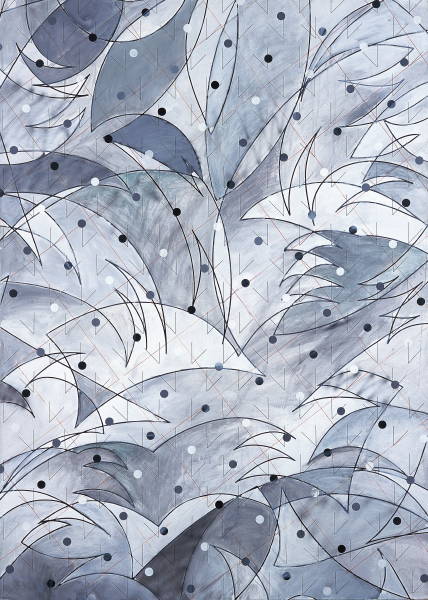 Synthetic polymer paint on canvas, 210.5 x 150
signed and dated ['H Arkley 80']
Private collection, Melbourne
A larger variant of Futurist with Dots (1979), this is a key example of the finesse with which Arkley was using the language of abstraction by this stage in his career, combining elegant linear rhythms with a subtle optical play on depth and illusion.
The quadrilateral grid of fine red lines stretched diagonally across the canvas suggests an attempt to hold the turbulent forces of the underlying composition in check. There is a considerable quantity of visible brush-work here, and, conversely, very little evidence of the use of the air-brush.
This canvas was first shown in 1980 (Georges Prize entry), and then in the 2006 Arkley retrospective.
Provenance
artist's collection
P/C Melb.
acquired from the above, P/C Melb., 2017
Exhibited
Georges Invitation Art Prize, Melb., 5/80
HA retrospective 2006-7 (shown in all 3 venues)
Literature
Carnival 59 and Fig.2.5 (full-page colour reproduction)
NGVA Arkley audio-guide 2006 (comments by John Gregory and others)