Lattice and Grids 1980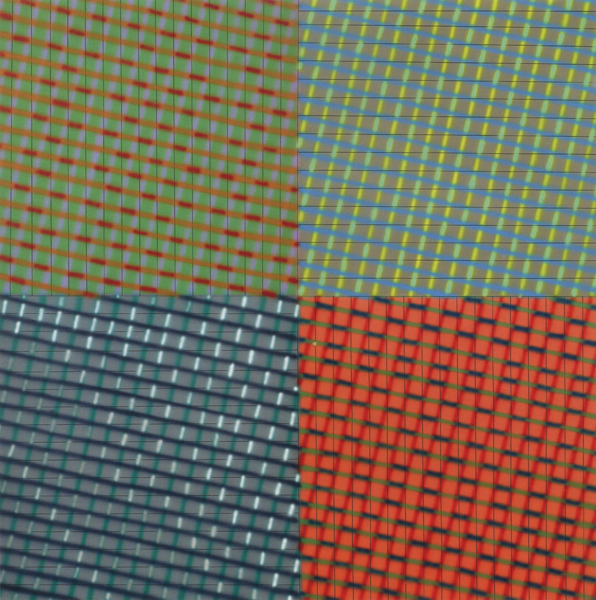 Alternate title: Lattices
Synthetic polymer paint on canvas, 162.5 x 162.0
Signed, titled and dated (on verso: 'HOWARD ARKLEY / 1980 /LATTICES' [Bonhams 6/15])
Collection: unknown (last auctioned June 2015)
This painting, first shown in Arkley's "Recent Works" exhibition at Tolarno in July 1981, as Lattice and Grids, was previously listed in this catalogue under 1981.
In June 2015, it appeared, as 'Lattices and Grids,' in a Bonhams auction featuring works from private collections curated by John Cruthers (see also Leaves and Flowers 1981). The Bonhams catalogue entry clarified the inscribed date. The inscribed title 'Lattices' correlates with the name under which the painting was shown in the 1991 Arkley survey at Monash University. Spray research notes (c.1996: copies in Arkley archive) list two separate works in the collections of two different private owners, but Arkley's file photos clearly indicate that the present work was the one shown at both Tolarno in 1981 and Monash in 1991.
When viewed in Melbourne prior to the 2015 Bonhams auction, this 35-year-old painting appeared to be in excellent condition.
Lattice (1981) [W/P], included in Arkley's Solander Gallery exhibition in Canberra (Oct.-Nov.1981) is obviously related.
Lattice and Grid (1980), previously confused with the present canvas, is a similar but simpler work, apparently first documented only in 2001, when it was acquired for the University of Queensland's art collection.
Provenance
Tolarno Gallery, Melbourne
Private collection
Auctioned by Leonard Joel, Melbourne, 2 Nov.1988, lot 1439
Lauraine Diggins, Melbourne
Private collection, Perth (acquired from the above in 1988)
Auctioned by Bonhams, Sydney, 16 June 2015, lot 24 (as 'Lattices and Grids'; reproduction and other details as shown here, including full provenance information; accompanying essay by Ashley Crawford; est.$30-40,000; sold for $36,000 [$30,000 plus buyer's premium])
Exhibited
HA Tolarno 7/81, cat.4 (Lattice and Grids, 160 x 160 cm)
HA Monash 1991, cat.23 (as Lattices 1980; size given as 162.3 x 162.3)