'Howard Arkley: Recent Works', Tolarno, July 1981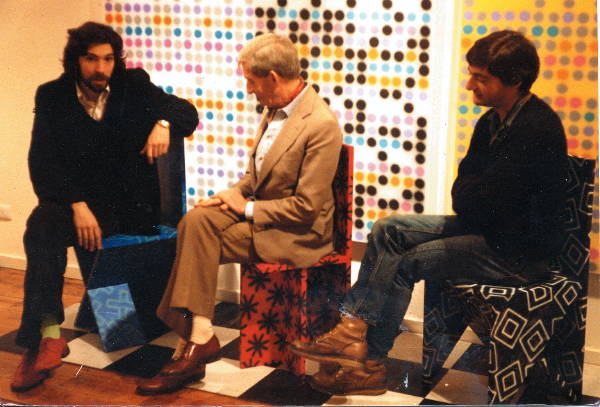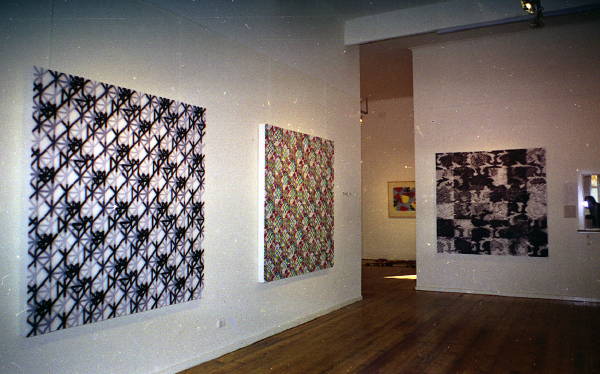 'Howard Arkley: Recent Works', Tolarno Galleries, 98 River Street, South Yarra, 4-25 July 1981
This exhibition, Arkley's first at Tolarno's new River Street premises, featured a series of large paintings, most of them about 160 cm (6 feet) square, marking the culmination of Arkley's pattern-making phase, together with the contemporaneous Wall Painting (Muzak Mural) (1981) [3/M].
Identification of works is facilitated by file photos, including several installation shots, slides of various individual works (some with process date August 1981), and shots of him posing in front of two of his own favourite works from this series, Disco (1981) and Metallic 1981.
For reviews of this exhibition, see Millar and Rooney (refer bibliography); the latter, in a key critical appraisal, commented on the artist's sophisticated and sustained exploration of 'the complex interplay between the structure and content of modernist abstraction and the patterns and images of mass culture,' also noting the importance of 'wit and parody', and feminist influences, in Arkley's developing work.
Details of works listed below are based on the list in Duncan 1991: 29 (the original check-list does not appear to be extant). Five of the canvases and a drawing from this exhibition were also included in Arkley's show at Solander, Canberra, later in 1981 (see separate entry).
(photos: Arkley, Georges and William Mora sitting 'in' Muzak Mural – Chair Tableau (1981), cat.no.13; installation shot showing, from left, cat. nos. 2, 1, 11 [part] and 10 [Arkley archive])
1.      Logitec (1981?), now part of the installation Logitex (table and chair tableau) (1980-84) [3/M] (NGA, Canberra). Arkley's slides of the painting have process dates August and October 81, the latter presumably taken at Solander later in the year.
2.      Science 1981. Also shown at Solander Oct.-Nov.1981; Arkley's archive includes slides with process dates March and Oct.1981. The painting was reproduced on the Tolarno exhibition invitation (copy in artist's files).
3.      Vortex 1981 (also shown at Solander Oct.-Nov.81)
4.      Lattice and Grids 1980 (subsequently shown in HA Monash 1991 as Lattices).
5.      Disco (1981): archive slide dated Aug81.
6.      Metallic 1981: archive slides (and installation shot from Solander Oct.-Nov.1981, where it was also shown). Acquired for AGWA 1989.
7.      Ornamentic 1981: also shown at Solander, Oct.-Nov.1981; acquired for AGWA 1989.
8.      Printout 1981 (Sydney, Artbank collection)
9.      Floral (1981): no archive photos; acquired for AGWA 1990
10.   Leaves and Flowers 1981: photos in Arkley's archive, including the installation photo reproduced above
11.   Red Wedge (Carpet and Drawings): for the rug, see Logitex (a hooked rug) (1981) [3/M], now incorporated in Logitex(table and chair tableau) (1980-84) [3/M] (NGA); the drawing visible in the installation photo (see above) is Redwedge [#1] 1981 [W/P], also shown at Solander later in 1981; the other drawing/s may have been Red Wedge [#2] (1981?) [W/P], and/or one of more of the working drawings still in the artist's studio collection, noted below under minor works on paper (1981). However, without further installation photos, it is impossible to be certain.
12.   Figurative: provisionally identified here as Figurative 1981 [aka 'Primitive Silver'?] [attrib.]; although it is not square in format, this canvas seems the likeliest candidate.
13.   Musak (sic) Mural and Chairs X, T, W, V: evidently the first exhibition of the NGV installation Muzak Mural – Chair Tableau (1980-81) [3/M], in its definitive form, as suggested by the photographic evidence in Arkley's files, including a slide of the final work with process date Aug81, and several undated photographs of the artist sitting 'in' the installation with Georges Mora and William Mora, also apparently taken at Tolarno (example reproduced here).