Four Chairs W, V, X, T 1980 [W/P]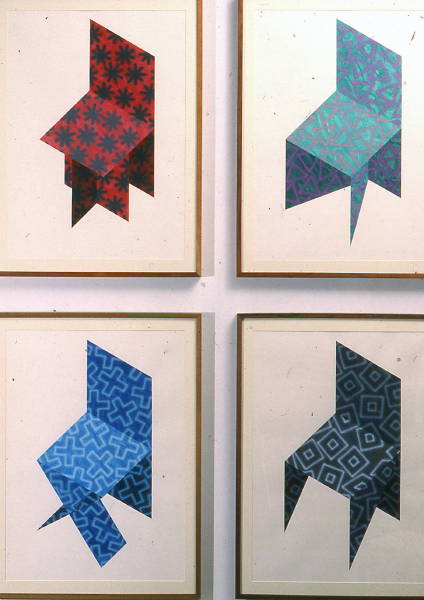 Synthetic polymer paint on paper: 83.5 x 41.6 irreg. ['W']; 83.6 x 41.4 irreg. ['V']; 83.2 x 41.4 irreg. ['X']; 76.4 x 41.4 irreg. ['T'] (each on backing 100.2 x 70.8)
signed, dated and titled [on reverse of each sheet: 'Chair Series / Title: [W, etc.] / Size [no entry] / Medium: Acrylic on paper / Date: 1980 / Howard Arkley / (Note: To be hung in following order – W, V, X, T)']
National Gallery of Australia, Canberra [84.1557.1-4]: details as above
Shown in Canberra in 1983 and in HA Monash 1991 as 'W, V, X, T (Four chairs)', these works on paper are obviously closely related to the four chairs in Muzak Mural – Chair Tableau (1980-81) [3/M].
The photo here shows the series as exhibited at Monash in 1991 (clockwise from top left: T, V, W, X).
The photo in Spray 54, identified as 'Isometric Chair' 1980, is actually the red chair from this set.
See also W Chair (Functional Objects series) (1980) [W/P], a variant of the black chair.
Provenance
Exhibited
NGA 7/83 ('A Melbourne Mood'): as 'W,V,X,T (Four chairs)', 1980-81
HA Monash 1991, cat.30: as 'W,V,X,T (Four chairs)', each 91.5 x 56.5
Literature
Carnival Fig.2.11 (Monash 1991 installation photo, including these works)
as noted above, the photo in Spray 54 is actually one of these works ('T')