Coloured Primitive 1982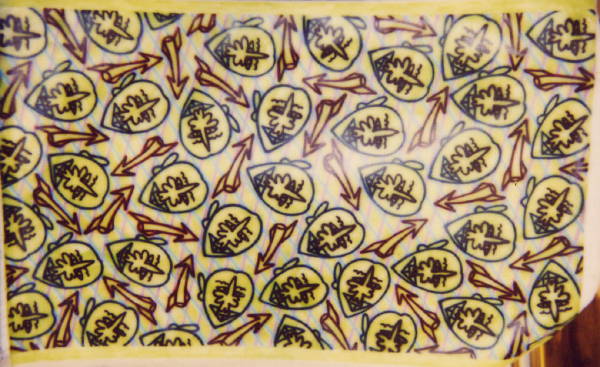 Synthetic polymer paint on canvas, 118 x 197
Signed, dated & titled verso ('Name Howard Arkley / Title "Coloured Primitive" / Date 1982 / Size 197 cm x 119 cm')
Private collection, Melbourne
This painting, which bears a close similarity in size and style to Untitled [Ornamentik variant] (1981?), deploys a distinctive pattern of repeated heads and arrows.
The work was previously included in this catalogue as Untitled [Heads & Arrows] (1981?), on the strength of several Polaroid photos in Arkley's archive, dating from c.1982, including one using the work as a backdrop for some of Arkley's blow-up toys! (photo reproduced under general remarks for 1982). Another photograph, reproduced here, dates from 1996, when the painting was with Deutscher Fine Art.
Further details, as shown here (including provenance information and ID photos), were forwarded to the Arkley Estate by Sophie Ullin Art Advisory in October 2021.
Provenance
with Deutscher Fine Art Dec.1996 (Arkley files, 1996: letter and photo, as reproduced here)
Nellie Castan Art + Design, Melbourne, purchased from the above
purchased from the above