Recording (wave study) 1976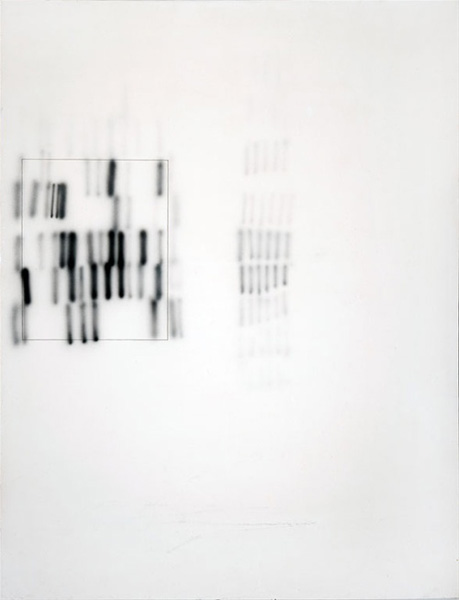 Synthetic polymer paint on canvas, 211 x 161
Signed and dated [twice, on both canvas and stretcher: 'H.Arkley 76']
Coll.: unknown
This canvas, listed under 1977 in the first edition of the present catalogue, was exhibited in Arkley's solo show at Coventry in May 1977 (clearly identifiable in installation photos). There was no subsequent mention of the work for well over 30 years, until it reappeared at auction with Mossgreen, Melbourne, in May 2011, now catalogued with the correct (inscribed) date of 1976, and other details as noted here, together with a current photograph.
Examination of the work prior to the 2011 auction (many thanks to Alison Renwick of Mossgreen for her helpful assistance) indicated that the surface has suffered somewhat over the years, now exhibiting various marks and some general discolouration of the white ground. The back includes not only the inscribed date and signature, but also a sticker with the number 4 – the catalogue number of the painting in the Coventry show.
The composition, essentially comprising repeated short black sprayed vertical lines of varying weight, is comparable with a number of other Arkley works dating from 1974-76, including Untitled [A114] (c.1974-76) [W/P],  Oriental Line Study 1975 [W/P]; and Untitled ['Orient' variant] 1976 [W/P]. See also Oriental (Wave Study) 1974, and Winter Notations 1975.
Provenance
Coventry Gallery, Sydney
Private collection, Sydney
auctioned by Mossgreen, Melbourne, 31 May 2011, lot 97 (as 'Wave Recording' 1976; ill. and other details as included above; est.$20-30,000; not sold?)
Exhibited
HA Coventry 5/77, cat.4: Recording (wave study), 160 x 210 {sic}; $450