Paper Construction (1978) [W/P] (states 1-3)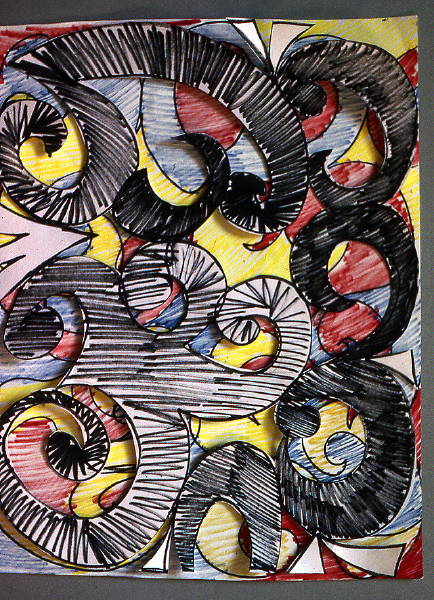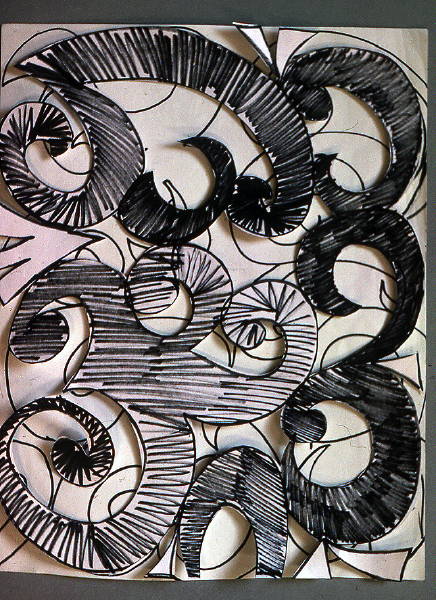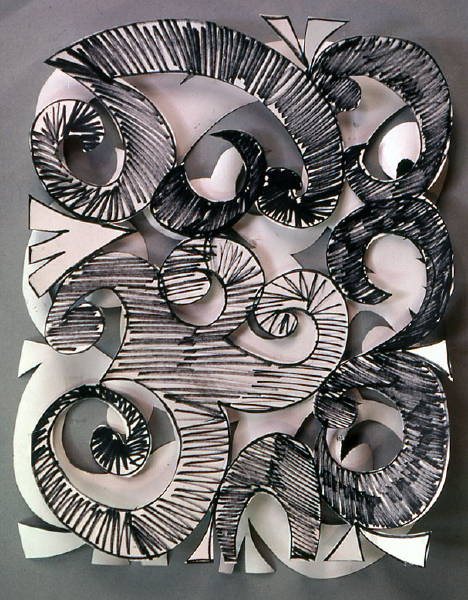 Fibre-tipped pen on paper collage, approx.35.2 x 28
Coll.: unknown
Arkley's archive slides, dating from late in 1978, show this work in several 'states', as reproduced here. In the first (bottom left; labelled on the slide 'Paper Construction 1978', and processed Oct78), the upper, cut-out drawing appears against a white, shaped background; this version was reproduced in Spray (reversed; dated 1977) as an example of the 'hotel art' Arkley made while overseas.
The second 'state' (centre left; slide with process date Nov78) juxtaposes the upper drawing to a white page with curving outlines in black pen; the effect is similar to Baroque (1979).
The third version (top left; archive slide also dated Nov78) juxtaposes the same upper cut-out image with a coloured Paisley pattern drawing below; this lower drawing, extant in a private collection, was included among the 'source material' included in Paisley; and source material (1988 and earlier) [W/P], as shown in Arkley's 'Casual Works' exhibition in 1988 .
The sequence of variations here clearly demonstrates the way Arkley used smaller works to trial larger compositions, while also evoking his creative process in general. The shifting layers also recall Untitled [altered Arp Book] (1977?) [3/M].
Provenance
Literature
Spray 23: B&W ill. of state 1, in reverse (dated 1977)