Map Book 1978 [3/M] [Howard Arkley & Elizabeth Gower]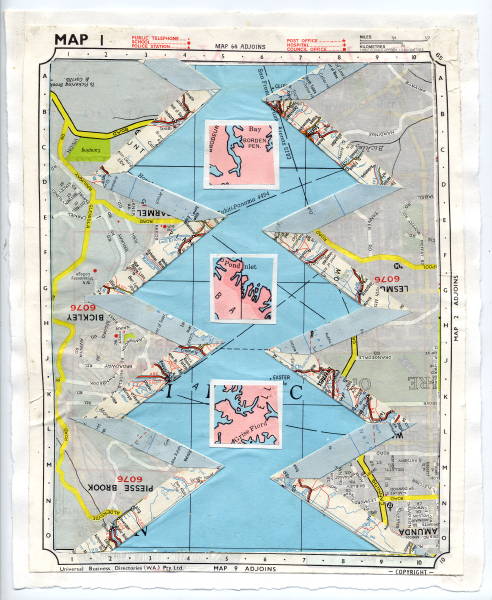 Collaged book of reconstituted maps: 12 parts, dimensions variable (approx.25.5 x 20.5 each)
signed, dated and titled [inscribed on title page: 'Maps / by Howard Arkley / Elizabeth Gower'; also stamped with the date 5 May 1978, and signed by Arkley]
Collection of Elizabeth Gower
In her review of the George Paton 'Map Show', Mary Eagle (1978) singled out this work for particular comment, observing that it emphasised qualities of colour, pattern etc. not normally perceived in the humble street directory. The main source used here was a 'Universal' guide to Perth and environs; other maps referenced were of Canada, the Ukraine etc.
Map 1 is reproduced here. For reproductions of all 12 sheets, see Fitzpatrick & Lynn (2015), where the collaboration between Arkley and Gower is also discussed in broader terms.
Stylistically and conceptually, this book may seem to owe more to Gower than Arkley (see especially Janine Burke, ed., Beyond the Everyday: the Art of Elizabeth Gower – a Glen Eira City Council Exhibition, Melbourne, 2002). But the geometric and pattern-making qualities also compare closely with his exhibited paintings from 1978-81.
Provenance
Exhibited
George Paton Gallery, Univ. of Melb. ('Map Show'), May-June 1978
HA TarraWarra 12/15-2/16 (details as above)
Literature
Eagle 1978 (Melbourne Herald review of 'The Map Show'): see comments above
Carnival 147 and Fig.5.6 (reproducing the cover sheet and Map 1)
Vivian 2008: 74 (also listing other artists involved in the George Paton exhibition)
Fitzpatrick & Lynn, Howard Arkley and Friends (2015), 39-43 (Victoria Lynn)
---