Study for White Painting #D 1975 [W/P]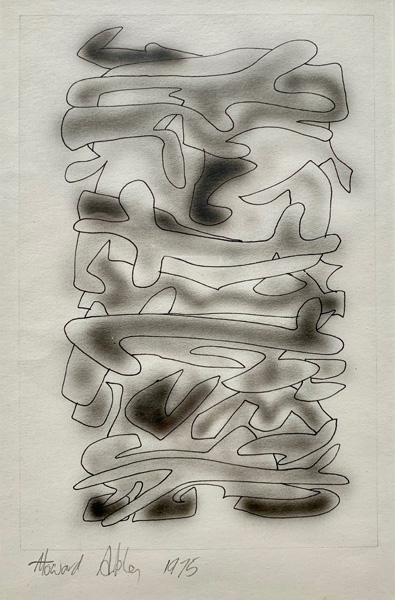 Synthetic polymer paint and ink on paper, 26 x 17; image size 23 x 15.3
Signed and dated l.l.: "Howard Arkley 1975"
With LookArt Consulting, 2018
This work was previously listed in this catalogue as Containing Seeds (1975) [W/P], based on a photo in Arkley's files, inscribed with that title and date; it was also noted that a Spray research card (c.1996: copy in the artist's files) lists a work under the same title, but describing it as on canvas. Hence, there was previously some doubt about whether this was a painting or a work on paper.
However, after the present work appeared recently at auction, its purchaser clarified the work's details and history, as shown here, and also kindly provided a better photo, reproduced here.
Formally, this work is not unlike Untitled [Monash 8.8] 1975 [W/P], made up of red, blue and yellow sprayed forms, some of which are outlined in ink. It should be emphasized that although the work's firmly documented provenance stretches back only to 2002, the archival photograph and Spray files provide a guarantee of its history prior to the artist's death. It may also be one of the smaller works included in Arkley's 'Casual Works' exhibition in 1988, although the available photographic evidence is inconclusive.
= 'White' W/P cat.no.119
Provenance
With Metro 5, Melbourne, c.2002
Auctioned by Leonard Joel, Melbourne, 4 Sept.2018, lot 123, set.$1,500-2,000
With LookArt Consulting, Melb. (correspondence with Arkley Estate and Arkley Works. Aug.2018)
Exhibited
(possibly) HA Casual Works 1988 ('White Painting' section, no.12, at lower right)
HA Metro 5, Feb.2002, cat.38 (one of three Studies for White Paintings, priced at $3,500 each)