Untitled [Replica Rietveld Chair] (c.1975-6?) [3/M]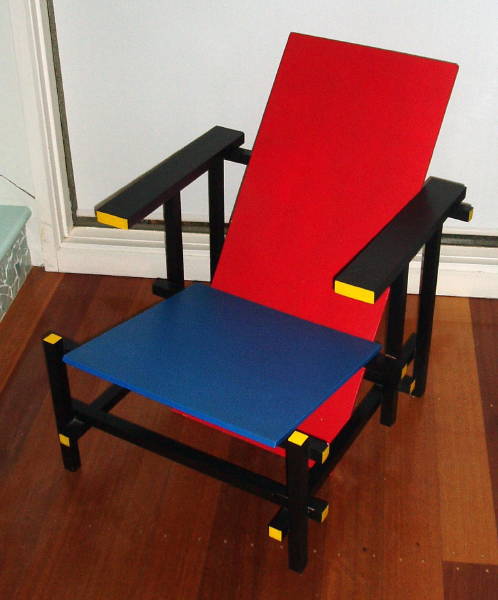 Synthetic polymer paint on wood, approx. 38.5 x 60 x 80
Private collection, Melbourne
This reduced scale replica of Gerrit Rietveld's classic red-blue chair (1918) dates from the 1970s (see Spray 72), although it was first recorded in 1980, when Melbourne artist/critic Robert Rooney photographed Arkley sitting in it, in his studio, with Proton-Neutron 50s (1979) in the background.
In 1981, Melbourne critic and theorist Paul Taylor mentioned this work in his influential 'New Wave' article in the inaugural issue of Art + Text, suggesting that while it was 'initially something of a carpentry exercise, the chair was quoted as an example of Modernist optimism and faith in a new harmony of constructive art'. By contrast, argued Taylor, Arkley's own stylized furniture, e.g. in Muzak Mural – Chair Tableau (1980-81) [3/M], reflected a more complex 'second degree' approach to modernist sources, combining popular culture references in a more 'disquieting' blend.
For Arkley's interest in Rietveld and the De Stijl movement generally, see Carnival 30 and 131.
Provenance
artist's collection
P/C Melb.
Literature
Taylor, Art + Text #1, 1981, 30 (quoted above)
Jenepher Duncan (ed.), From the Homefront: Robert Rooney – Works 1953-1988, Monash University Gallery, 1990, photo facing p.38 (1980 photo of Arkley as noted above)
Spray 72, commenting that both Arkley and John Nixon made replicas of the Rietveld chair, and implying a date of c.1975-6
Carnival 30, mentioning this work in relation to Spartan Space (Homage to De Stijl) (1992); also back cover (reproducing Rooney's 1980 photo)