Tracing (1975?)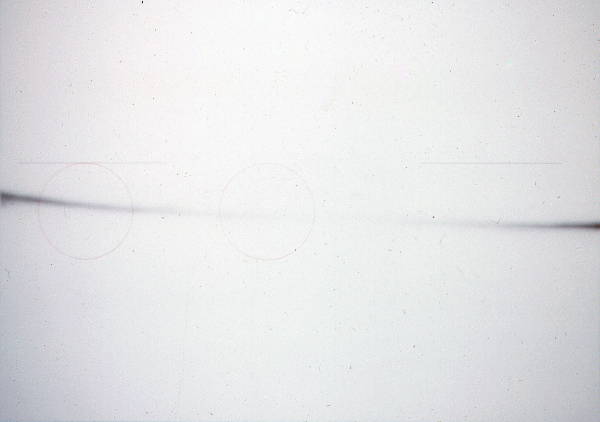 Synthetic polymer paint on canvas, 157 x 240
Coll.: unknown
The work reproduced here (from Arkley's untitled file slides, with process date May75) appears to be the most likely candidate for the canvas shown at Tolarno in 1975 with this title.
It was evidently an elegant example of Arkley's early minimal manner, with its juxtaposition of the single, gestural sprayed line against faintly-outlined circles (in red) and short straight black lines (these details are difficult to make out in reproduction). Several comparable works on paper are extant, notably Untitled [A187] (c.1974-78) [W/P].
The dating is evidently uncertain: planning notes for HA Monash 1991 (copy in Arkley's files) list 'Tracing (1974)…165 x 240, not signed, not dated, collection: the artist' for possible inclusion, noting: 'needs repair and stretching' (no photo provided; not included in the Monash show).
Another photo of the same work in Arkley's files appears to have been taken at the Coventry 5/77 exhibition, suggesting that this was the work shown there as Tracing (Liquid).
Provenance
Exhibited
HA Tolarno 4/75, cat.2 (as 165 x 240 cm)
HA Coventry 5/77, cat.5, as Tracing (Liquid) (165 x 240): presumably the same work