Actuality (Is the Void Between Events) 1976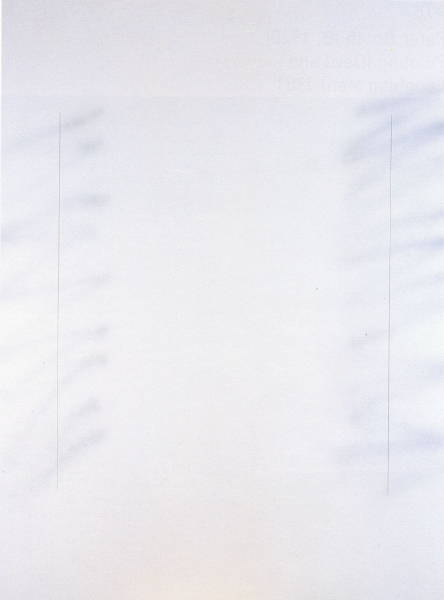 Synthetic polymer paint on canvas, 211 x 158.7
signed and dated [on reverse: Arkley '76]
Collection of JW & VR Evans
Exhibited in Arkley's solo shows at both Tolarno 8/76 and Coventry 5/77 (when it was photographed: slide in Arkley's files dated Jun77).
Jason Smith (2006) first noted that the title derives directly from a passage in George Kubler's classic 1962 book The Shape of Time. Anthony Fitzpatrick (2015) cites an Arkley archive image clipped from Scientific American as a likely visual reference: it shows two vertical lines superimposed on "what appears to be a blurred image of two pedestrians walking in opposite directions" (the source image is preserved in Arkley's Visual Diaries, no.46).

Several work on paper 'studies' dating from c.1974-75 develop on the same formal idea of two straight verticals over freely sprayed black line-work: see e.g. Study for Actuality [A93] (1974) [W/P] (reproduced in Spray 16).

Provenance
Coll. Elizabeth Gower, acquired directly from the artist in 1976 (noted in both HA Monash & Christie's 6/02 auction cat.)

at auction with Christie's, Melb., 25 June 2002, lot 77 (ill.; size etc as given above; est.$25-35,000; not sold)

subsequently acquired by present owners

Exhibited
HA Tolarno 8/76, cat.3

HA Coventry 5/77, cat.3

(presumably) HA Quentin, Perth, 2/85, cat.10 ('Actuality – the Space Between Events'; priced at  $3,000)

200 Gertrude Street, Melb., 11/87 ('Ten by Ten'), cat.3 (as collection of the artist)

HA Monash 1991, cat.9 (as 1975)

HA TarraWarra 12/15-2/16 (listing details as above)
Literature
Dumbrell 1987, p.10 ('Ten by Ten' exh.cat.; ill.)

Smith 2006, p.9 (including a quote from George Kubler)

Fitzpatrick & Lynn, Howard Arkley and Friends (2015), pp.10-11 (including reproduction of source image as mentioned above)