Organic Model G (Black Square) 1976 [Tolarno]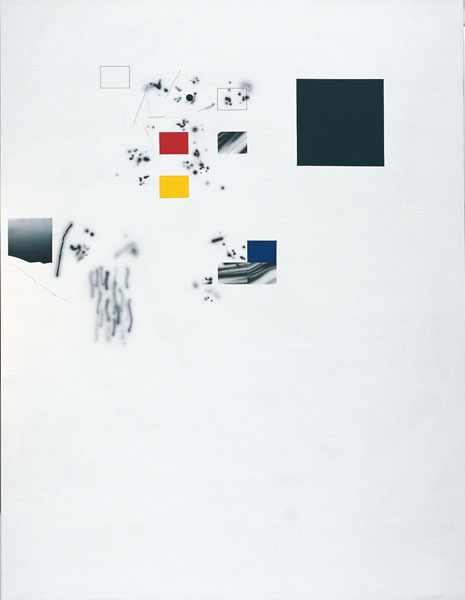 Alternate title: Primal (Thought Forms)
Synthetic polymer paint on canvas, 211.5 x 162
signed and dated
Private collection, Melbourne
This painting was first shown at Tolarno 8/76, as Primal (Thought Forms). Alan McCulloch's Herald review of that exhibition verifies the identification: 'In Primal (Thought Forms), 9, single oblongs of red, yellow and blue join the black, white and grey'. Arkley's archive includes a slide with process date Oct76. Since the Monash Arkley exhibition in 1991, the painting has been exhibited and reproduced as Organic Model G (Black Square).
For analysis of the key role played by colour here, see Carnival 104. Several of Arkley's 'white' works on paper extant in his studio collection make similar use of squares or rectangles in primary colours to offset sprayed monochrome elements.
See also Organic Model G (Black Square) 1976 [Coventry], a similar work (but without primary colour), first shown in 1977.
Provenance
artist's collection
private collection, Melb.
private collection, Melb. (acquired from the above, 2014)
Exhibited
HA Tolarno 8/76, cat.9: as Primal (Thought Forms)
HA Monash 1991, cat.13: as Organic Model (Black Square)
HA retrospective 2006-7 (details as above; shown at all 3 venues)
Literature
McCulloch 1976 (exh.review: quoted above)
Carnival 104 and Fig.3.14: as Organic Model (Black Square) 1976