Welcome to Arkley Works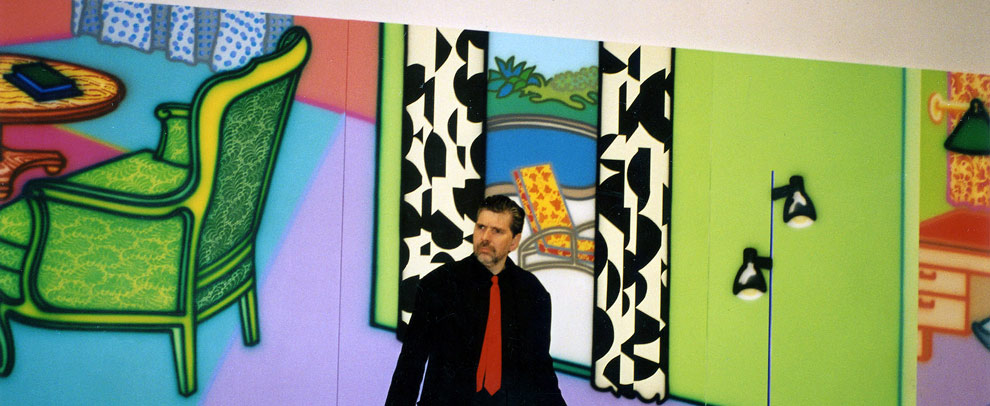 Welcome to Arkley Works, a new type of publication that combines the virtues of a traditional 'catalogue raisonné' or 'oeuvre catalogue' (a fully researched accounting of an artist's works, long regarded as a corner-stone of the art-historical enterprise), with the accessibility and contextual insight afforded by contemporary technology.
Important preliminary note concerning provenance
Only works with a verifiable history ("provenance") predating Howard Arkley's death in July 1999 are included in this catalogue of his oeuvre. Appropriate evidence includes dated exhibition catalogues, photographs or reproductions, or purchase receipts, where this evidence is verifiable and helps to locate the work within Arkley's oeuvre. "Evidence" generally not regarded as sufficient includes vague, undocumented claims (e.g. "purchased directly from the artist," "formerly owned by Arkley's greengrocer," etc.), or statutory declarations to some such effect.
The author will consider inclusion of any work not listed here upon receipt of appropriate proof of provenance as outlined above. The confidentiality of any information communicated to Arkley Works is assured, and the final decision about inclusion of any work rests with the author (after consultation with the Arkley Estate). NB anyone who owns or is contemplating buying a work purported to be by Arkley should take care to obtain or request appropriate supporting documentation that demonstrates how the work in question can be verified as from the artist. 
Howard Arkley (1951-99)
In many ways, Howard Arkley was the quintessential Australian artist of the 'Popist'/Postmodern generation of the 1970s and 80s, his vigorous air-brushed line-work and vivid colour a spectacular affront to the good manners of many a conservative critic (even to this day). Simultaneously respectful of his modernist and Pop forebears and contemporaries (Mondrian, Klee, Rothko, Warhol, Lichtenstein, Hockney, Ed Ruscha and Robert Rooney, to name a few of his numerous heroes), he was also fascinated by popular culture – comics, toys, disco and punk music, advertising imagery and neon signs.
He also became, surprisingly perhaps (although he had long been fascinated by popular taste and decoration), an advocate for suburbia, especially in his last decade, achieving an extraordinary success with his 'Home Show' at the Australian Pavilion of the 48th Venice Biennale which opened in June 1999 with his magnum opus Fabricated Rooms (1997-99) as its centrepiece.
Arkley's sudden death in his studio in the Melbourne suburb of Oakleigh, only a few weeks later, shocked everyone, and led to considerable auction-room mayhem and fevered rhetoric in the years that followed. Now, over a decade on, it seems timely to attempt a cooler summary of his artistic achievement, in a contemporary medium he must surely have found attractive, had he lived to see it.
The Catalogue
The site is designed to be navigated easily, with key information accessible through the individual year entries available via the drop-down menus under the heading 'Explore the Catalogue' in the top margin. Individual works for each year are listed in summary form at the right margin of each year entry: simply click on the title of a work to see full catalogue details, including ownership history ('Provenance'), exhibition details, and key references for each work catalogued (for full details of references to Arkley, listed by year, see Bibliography). Users wishing to find a particular work may prefer to use the alphabetical index (updated regularly).
Individual catalogue entries are provided for all installation works, paintings and major works on paper with a verified history of exhibition and/or ownership prior to Arkey's death. All works are listed by title and date – e.g. Tattooed Head (1983) [aka Tattooed]; works on paper are given an additional suffix [W/P], thus Have you any glass friends (1972) [W/P], and 3-dimensional and miscellaneous works are indicated by an added [3/M], e.g. Muzak Mural – Chair Tableau (1980-81) [3/M]. Dates without brackets are documented directly (dated by the artist); dates in brackets are provided through other sources (e.g. exhibition or publication); and a question mark indicates that the date is uncertain.
A note on titles. Especially in the first half of his career, Arkley often exhibited individual canvases under different titles: see e.g. Curvelinear 1978, first shown at Tolarno in May 1979 as 'Futurist'. Generally, works are listed under a single title – usually the inscribed title, if there is a record of one. Alternate titles are noted in individual entries, and in the A-Z Index. Occasionally, he used the same title for several different works, often around the same time; in such cases, alternative titles or descriptive details are included in the main entry title, to avoid ambiguity: see e.g. Arabesque (1979) [Coloured Paisley], Arabesque 1979 [Curvilinear] and Arabesque 1979 [Floral]. "Untitled" is preferred where a title does not seem to be Arkley's own – see e.g. Untitled ['Girl in a Car'] (1976-7?).
Summary entries list the artist's sketchbooks, so-called Visual Diaries and doodled Mills & Boon Books (more detailed publication of all this material is in preparation). There is also a separate listing of the artist's 'White' works on paper (c.1974-78), cataloguing this extensive corpus of some 250 works in systematic fashion. Not included are: juvenile and student works made prior to 1972; and the majority of his numerous 'minor' works on paper (sketches, doodles on drink coasters and the like), although representative examples of these are noted under each year.
The site has been produced using WordPress, with the technical assistance and design skills of Patrick Toohey. The text and overall conception are the work of John Gregory, author of Carnival in Suburbia: the Art of Howard Arkley (Cambridge University Press, 2006), for which this catalogue may be seen as a virtual companion volume. The author thanks the Sidney Myer Fund, which provided crucial financial assistance; Kirsten Stevens, for valuable research assistance; the Faculty of Art, Design and Architecture (formerly Art & Design) at Monash University; and the many collectors and curators who have responded to requests for information (some individuals are singled out in specific catalogue entries). Particular thanks go to the Estate of Howard Arkley for permission to reproduce the works shown, and to Alison Burton for her continued support for the project.
Feedback
Arkley Works (first published 30 June 2010) is designed to be a work in progress. Conventional catalogues are often already out of date by the time they are published, but the online format allows easy and regular updates, incorporating new information and corrections as appropriate (updates will be issued at regular intervals). Crucial here will be feedback from users, who are invited to contribute information and comments to the following email address: feedback@arkleyworks.com.
Current update
As noted above, this catalogue is an evolving site, including regular updates of exhibition and ownership details etc., and new entries as appropriate. Users are advised to check individual entries and the A-Z Index from time to time, as some details may have changed.
For details of the most recent additions to the catalogue, see New entries 2019-21.
Copyright
Text copyright John Gregory 2010-
All images unless otherwise indicated copyright courtesy of The Estate of Howard Arkley. Licensed by Kalli Rolfe Contemporary Art. Anyone wishing to publish an image of an Arkley work should seek permission from The Estate of Howard Arkley c/o Kalli Rolfe Contemporary Art: www.kallirolfecontemporaryart.com