Corner House 1994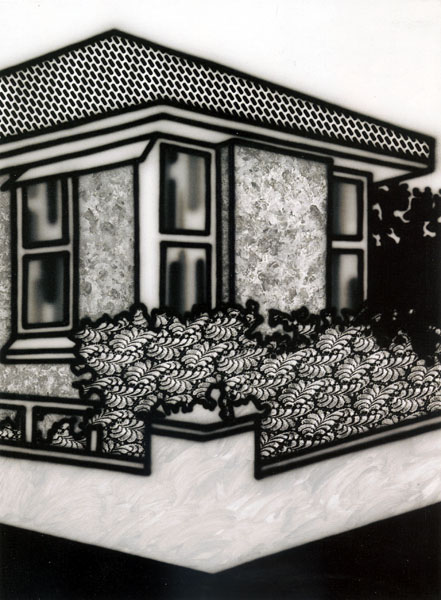 Synthetic polymer paint on canvas, 165.3 x 122
Signed and dated [on reverse: 'Howard Arkley 94': according to Sotheby's 2010]
Coll.: unknown
There are good prima facie grounds for accepting this canvas as a refined example of Arkley's mid 90s monochrome manner.
Its dimensions and style are consistent with other paintings known to have been included in Arkley's 1994 show at the Bellas Gallery, Brisbane (for which details remain sketchy): compare e.g. Grace with Space 1994. The earliest certain record of the present painting seems to be its appearance in the Arkley exhibition at Metro 5, Melbourne, in February 2002. It was subsequently recorded in a private collection in Melbourne (2006), and then appeared at auction with Sotheby's, Melbourne, in April 2010, in good condition. Geoffrey Smith described it in the Sotheby's catalogue as 'the most significant example [of Arkley's monochrome works from this period] to appear at auction'.
The composition and treatment vary only slightly from Corner House (study) (1995) [W/P], a large-scale work on paper shown in Arkley's 'White + Black' exhibition at Tolarno in 1995. The composition first appeared, in colour, in Hedge on Street Corner 1988 and Untitled (1988) [Hedge], and then in modified form in Corner House with Hedge 1989 and Indoors-Outdoors (1994). The present work is in fact most closely related to the tonal and decorative elegance of the latter painting. Alison Burton adds (June 2011) that the decoration of the hedge area in the present work – as in Indoors-Outdoors (1994) – is based on a stencil she introduced to Arkley in the early 1990s.
Provenance
with Metro 5, 2002 (see exh.details below)
private collection, Melbourne (noted with details and photo in NGVA planning notes 2006)
auctioned by Sotheby's, Melbourne, 20 April 2010, lot 102 (details and photo as shown here; est.$80-100,000; sold for $96,000 plus buyer's premium)
Exhibited
(possibly) HA Bellas 5/94 (see comments above)
HA Metro 5, 2/02, cat.13 (as Corner House 1994, priced at $130,000; no photo provided)