'Howard Arkley: Recent Paintings', Tolarno, Sept.-Oct.1986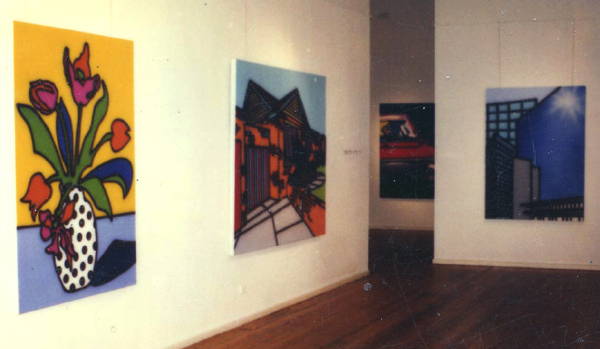 'Howard Arkley: Recent Paintings', Tolarno Galleries, 98 River Street, South Yarra, 20 Sept.-8 Oct. 1986
In this show, Arkley blended psychedelic and suburban themes in a heady mix, announced on the invitation by a reproduction of Fast (reproduced above, under general comments for 1986). The artist's files contain a complete set of slides, installation photos and check-list, allowing for accurate identifications of all works shown.
A set of notes in Arkley's 1986 files lists buyers for most of the works (only nos.5, 7, 9 and 10 appear to have remained unsold at the time).
Reviewers were also impressed: Robert Rooney, writing in the Australian, judged Arkley's show 'his strongest yet and more dazzling than his 1983 exhibition'; and Gary Catalano, in his review in the Melbourne Age, headlined 'Exhibition proves a pleasure', also heaped praise on the show, admiring its frank emphasis on everyday artifice (see bibliography for details).
(photo: installation shot showing, from left, cat. nos. 6, 7, 11 and 8 [source: Polaroid in Arkley archive])
2.    Discocacti 1986
3.    Totems-Epiphyllum-Hybrid 1986
5.    Notocactis (1986)
6.    Tulips and Spotted Vase (1986)
8.    Highrise St Kilda Road 1986
9.    The Ritual 1986
10.  Tudor Village (1986): 1st exh.at George Paton Gallery, 6/86 as Tudor Village (Coloured)