'Howard Arkley: Urban Paintings', Quentin Gallery, Perth, Feb.-March 1985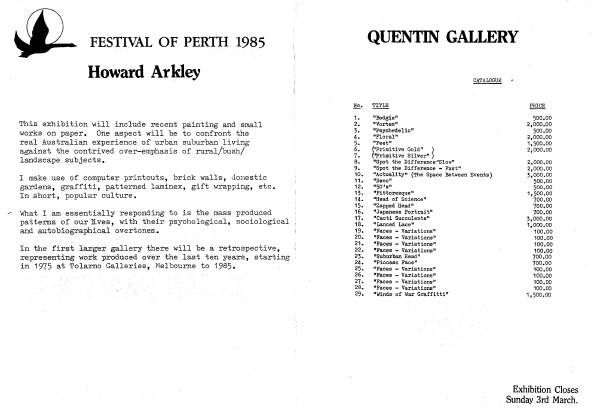 'Howard Arkley: Urban Paintings', Quentin Gallery, 20 St Quentin Ave., Claremont, Perth, Western Australia, 7 Feb.-3 March 1985
Details for this show, staged as part of the 1985 Festival of Perth, are unfortunately somewhat sketchy. The check-list (reproduced here) provides only titles and prices for the 29 works shown, and no installation photos have come to light. However, works on both canvas and paper were obviously included, and the prices, together with Arkley's notes for the show (preserved in his files), help identify a number of the works, as listed below.
The check-list note describes the show as a retrospective of the artist's work from 1975-85. Indeed, this was the largest survey of his oeuvre to date.
W.A. critics were generally enthusiastic: see Prott 1985 and Snell 1985 (as listed in biblio.). But the show does not appear to have been a commercial success, to judge from Arkley's files. A gallery letter details efforts to sell works, mentioning possible sales to the Art Gallery of Western Australia (nos.13 and 17 are mentioned specifically). Later, cat.no.4 did end up being purchased for AGWA, along with several other works from the same series.
1.      Bodgie 1979; despite the apparently low price of $500, this appears to be the correct ID; in fact, all 4 'doors' in this show, nos.1, 3, 11 and 12, were priced at $500. A comment in Arkley's exhibition notes ('Bodgie [etc.]: Note: 4 part work hanging approx.12" apart, left to right'), suggests they may have been intended to all hang together, as did occur in 1988 in the 'Suburbanism' show at the George Paton Gallery, including several of these same paintings.
2.     Vortex 1981 (date of 1981 specified in Arkley's exhibition notes)
3.     Psychedelic 1979
4.      Floral (1981): dated 1981 in Arkley's notes; subsequently purchased for AGWA (in 1990)
5.      Feet = Tattooed Feet 1983; Arkley's notes elaborate: 'Feet of Christ'
6.      Primitive Gold and 7. Primitive Silver (priced together at $2,000)
NB Arkley's exhibition notes contain the following comment on cat.nos.6-7: 'Note: 2 pieces hung as 1 work approx.12" to 24" apart'. Without installation photos or other details, it is difficult to be certain exactly which paintings these were. On balance, the most likely candidate would appear to be the diptych Primitive Gold / Primitive Silver 1981 (Michael Buxton Collection, Melbourne). Less likely, perhaps, given their smaller size, are the two canvases listed here as Primitive Gold (?) (1984) and Primitive Silver 1984. See also Figurative 1981, previously considered a possible candidate for cat.no.7, but now seen as more probably a stand-alone work.
8.      Spot the Difference – Slow = (presumably) Spot the Difference (Slow) 1983; Arkley's notes indicate the size as 210 x 150, which tallies
9.      Spot the Difference – Fast = (presumably) Spot the Difference (Fast) 1983; the artist's notes identify this as 'green'
10.   Actuality (The Space Between Events) = (presumably) Actuality (is the Void Between Events) 1976; Arkley's notes describe the work as 'white 1974 Red circle' (suggesting not to be sold? if the ID is correct, this work was in a private collection at the time; hence the high price of $3,000 may have been hypothetical)
11.   Deco = (presumably) Deco 1979
13.   Pittoresque: uncertain ID; the high price of $1,500 makes it unlikely that this was one of Arkley's works on paper with this title (see 1984, 1988); the price is same as for cat.no.29, perhaps suggesting its twin: Schizo 1983 

14.   Head of Science (1985?) [W/P]: unidentified
15.   Zapped Head ($700): presumably identical with Zappo Head 1985 [W/P]
16.   Japanese Portrait: presumably identical with Jap Head 1985 [W/P]
17.   Cacti Succulents ($3,000) = presumably either The Cacti Succulents (1986) or Untitled ['The Cacti Succulents'] 1986.
18.   Lanced Lace ($1,000): uncertain ID; possibly identical with the work on paper first shown in 1984 as Lace-Lanced 1983 [W/P], and then in Hobart in Sept.1985 as 'Lanced Lace'
19-22 and 25-28:  Faces – Variations 1-8 (1985?) [W/P?]: uncertain ID: the low price of $100 each, and Arkley's exhibition planning note ('10 drawn heads') suggest these were minor works: see e.g. Untitled ['Aztec Head'] 1984 [W/P] and Untitled [Head] 1985 [W/P] and other examples from this period
23. Suburban Head (1985? [W/P?]: unidentified; Arkley's notes indicate: 'Head of House' (a pun?)
24. Piccaso Face {sic} ($700) = (presumably) Picasso Face (1985?) [W/P]; later auctioned by Sotheby's Melbourne, 27/9/92 as Head (n.d.)
29. Winds of War Graffiti ($1,500) = (presumably) Winds of War Graffiti 1983