Untitled [Lanced Lace] 1983 [W/P]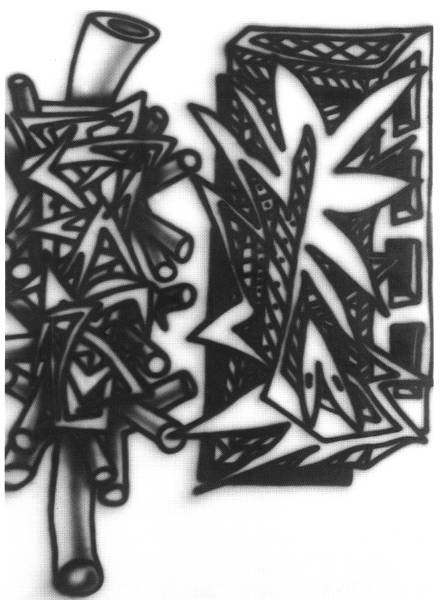 Synthetic polymer paint on paper, 149 x 109
signed and dated [l.r.: 'Howard Arkley 83' – acc.to Christie's]
Coll.: unknown
This early example of Arkley's cacti was auctioned in 2002, as 'Untitled', noting that it came from the collection of Arkley expert Ashley Crawford. Installation slides (Arkley archive) clearly identify it as one of the three Arkley works on paper included in the '6 Drawing' group exhibition in Hobart in Sept.1985, where it was shown as 'Lanced Lace'.
It may also be identical with the work on paper shown as 'Lace-Lanced' in HA Roslyn Oxley9, 5/84 (although there appear to be no installation photos to verify this hypothesis), and an unidentified work shown as 'Lanced Lace' in HA Quentin 2/85 (again, there are no installation photos).
The 'exploding box' motif to the right here also features in the Oct.1983 Tolarno exhibition invitation (reproduced under 1983 exhibitions), and The Triffids [poster] 1985 [W/P].
Provenance
Coll.Ashley Crawford (acc.to Christie's 6/02)
auctioned by Christie's, Melb., 25 June 2002, lot 72 (as 'Untitled'; ill.; est.$20-30,000; not sold)
Exhibited
(possibly) HA Roslyn Oxley9, 5/84, cat.7 (Lace-Lanced, W/P, 110 x 150; no photo)
(possibly) HA Quentin, Perth, 2/85, cat.18 (Lanced Lace; no details or photo)
Tasmanian School of Art, Hobart, 9/85 ('6 Drawing'), cat.3 (as Lanced Lace; dated 1984; size given as 112.5 x 152)