Logitex  (table and chair tableau) (1980-84) [3/M]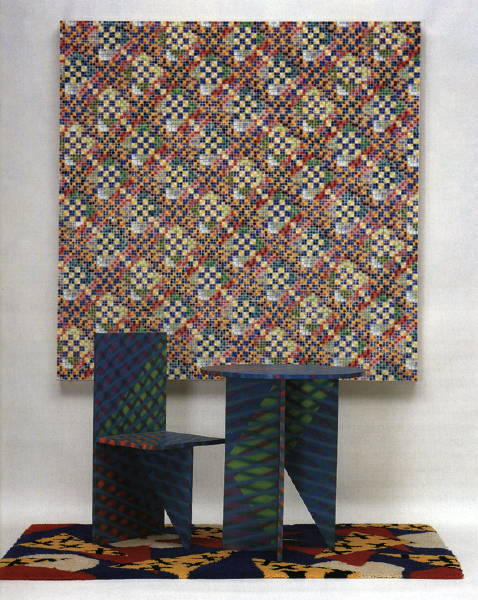 Synthetic polymer paint on canvas and wood, woven rug: 87 x 87 x 38 (chair); 74 x 65 x 65 (table); 110 x 110 (rug), 162.5 x 162.5 x 7.5 (painting)
National Gallery of Australia, Canberra [84.1552a-d]
First shown in Canberra in 1983, in incomplete form, with two chairs from Muzak Mural – Chair Tableau (1980-81) [3/M] standing in for the unfinished table and chair (see exhibition details for 1983).
The canvas is presumably identical with Logitec 1981. The rug, Logitex (a hooked rug) (1981) [3/M], was first shown separately at Tolarno 7/81 (with related drawings), and clearly dates from 1981 (not 1984, as indicated in the 1991 Monash exhibition catalogue).
Provenance
Purchased for the NGA via Tolarno, 1984
Exhibited
NGA, Canberra, July-Aug.1983 ('A Melbourne Mood'): shown in incomplete form, with 2 chairs 'borrowed' from the NGV's 'Muzak Mural' installation (see Thomas 1983)
HA Monash 1991, cat.32
HA retrospective 2006-7 (shown in Melbourne only; details as above)
Literature
Thomas 1983 ('A Melbourne Mood' exh.cat.), 10
Duncan 1991 (HA Monash exh.cat), 8 (ill.: canvas) and 21 (ill.: rug)
Spray 55-57, including a good photo of the overall installation.